Philadelphia Area Dodge, Chrysler and RAM Car Repairs

Come meet our new service team!!!

In need of auto repair and looking for a factory-trained & ASE Certified Chrysler, Dodge, RAM or Jeep Mechanic in South Jersey?  That's why our aim is to put your mind at ease and repair your car right the first time. Our trained auto mechanics are experts at repairing your Dodge Chrysler RAM or Jeep vehicle. Plus, we can service all makes and models. Come in and check our prices and you'll see why at Mt.Ephraim Chrysler Dodge RAM "Dealership Service is not Expensive". 
Our Chrysler Jeep Dodge RAM Service Department now takes appointments online.We offer Convenient hours, six days a week ,alternate transportation and shuttle service.We repair everything from Tires to Air conditioning, Brakes and Tune-ups, Mt.Ephraim Chrysler Dodge is your trusted auto repair facility in the Camden,Cherry Hill and Mt. Ephraim area.
Maintaining your Dodge. Chrysler or RAM properly is the key to vehicle longevity, and our greater Philadelphia Dodge, Chrysler and RAM service department is standing by to keep your car, truck or SUV running smoothly for years to come. Our highly-trained technicians will maximize your Dodge, Chrysler or RAM vehicle's performance. All service includes a multi-point vehicle inspection to identify developing problems so you can avoid future breakdowns. Mt. Ephraim Chrysler Dodge pre-rescues your car in the service bays so you don't get stranded on the highways!

Advantages of Synthetic Motor Oil


Why Use Synthetic Oil?
Conventional mineral oil is simply refined crude oil. Synthetic oil is rebuilt and added so that it can better protect against wear, high temperatures, cold weather, and sludge buildup.

REDUCED ENGINE WEAR: At engine startup, a Synthetic lubricant starts circulating straight away, protecting every moving part within the engine.

IMPROVED FUEL ECONOMY: During engine warm-up, Synthetic oil gets to work quickly, so the engine reaches peak operating efficiency sooner.

CLEANER AND ENVIRONMENTALLY FRIENDLY: When compared to conventional mineral oils, synthetics help cut engine emissions. Synthetic oil is not only refined, it is also distilled and purified. 

Mt. Ephraim Chrysler Dodge RAM now offers Synthetic Oil Changes!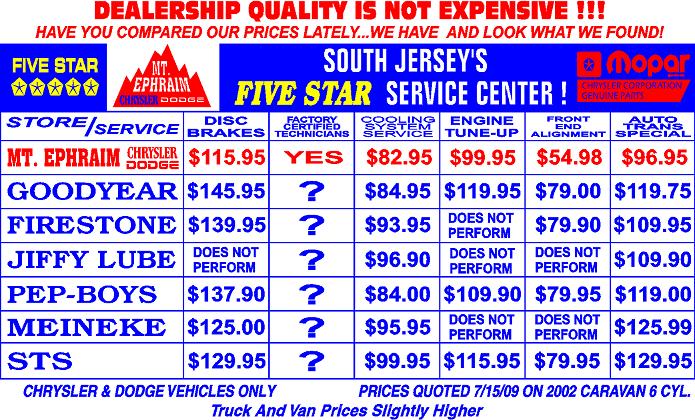 Located at 620 North Black Horse Pike, Mt. Ephraim, NJ, we are your convenient car dealer for Dodge, RAM and Chrysler service and repair in Philadelphia. If you'd like to schedule a service appointment at our Philadelphia area Dodge, Chrysler and RAM dealership, please use our online service appointment request form, or call us.